News and Announcements
Students awarded for achieving fluent English proficiency!


Congratulations to all of the students in LUSD who achieved fluent English proficiency in the 2014-2015 school
year. The students were recently honored at an awards assembly at each of their schools. We are very proud of them!
Raise 80 Project Updates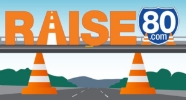 Caltrans will begin work to raise the vertical clearance of nine structures in Placer County that cross Interstate 80. Many of these overcrossings will impact traffic in the Newcastle and Loomis area. Click here for more information on how to access the Raise 80 Project website.
Kindergarten Prep Camp coming this summer!


The Loomis Union School District is excited to offer a FREE Kindergarten Summer prep Camp to kindergarten and transitional kindergarten students enrolled in the 15-16 school year. Click here for more information.
Registering in the 2015-16 School Year


The Loomis District Open Enrollment Window will open March 1st, 2015 in our district K-8 schools. Click here for additional information on the 2015-16 registration process and how you can register your child.
LUSD 2015-2016 and 2016-17 Instructional Calendars


On January 22nd, 2015, the Loomis Union School District Board of Trustees approved the 2015-16 and 2016-17 Instructional Calendars. The calendars are available by clicking above.
All-Day Transitional Kindergarten Program


All-Day Transitional Kindergarten Program being offered at Loomis Grammar School and Placer Elementary School. Click on the link to download a registration packet and find out how to register your child for the 2015-16 school year.
Franklin Teacher Cinnamon Johnsrud to Travel to Washington DC this Summer


Congratulations to Franklin Elementary teacher Cinnamon Johnsrud for being selected as a participant in the Library of Congress 2015 Summer Teacher Institute. Cinnamon will be traveling to Washington DC for this professional development opportunity. Training will cover strategies to build student skills on observation, reflection and questioning. Cinnamon will be collaborating with teachers from around the nation.
District K-5 Math Pilot


On Wednesday, April 23rd, twenty teachers across the district met to discuss the three K-5 math programs that they have been reviewing since January. We will be bringing their recommendation to the board on May 6th.
Eagle Scout Project Donates Emergency Kits to All LUSD Schools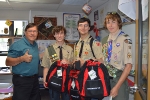 Nick Pellegrini, a Boy Scout since elementary school, coordinated his Eagle Scout project to benefit the Loomis District schools. Nick collected donations to purchase emergency kit supplies and organized peers to assemble the backpack style kits. In all, 152 backpacks were delivered to the seven district schools on April 9th. The LUSD is fortunate to have been the recipient of this great project!
Student from Loomis Basin Charter School wins the Placer County Spelling Bee!


Congratulations to Jaren Gode, 5th grader from Loomis Basin Charter School as the overall winner for his grade level at the 2015 Placer County Spelling Bee! Jared will go on to represent Placer County at the State Elementary Spelling Bee on April 18th.